Bowerbird Bazaar - It was awesome - totally awesome - we have some truly fantastic creative and artistic people in this country - true artisans. I got to meet someone I admire so much and got to speak with her AND when I returned to purchase form her stand she remembered me!!!
her words move me, her spirit pervades her and she just plain makes you feel like the world is a good place. Kylie your work is stunning!
These delectable Christmas decorations are made every year and you have to get in quick before they disappear. Looking for something special this yuletide then she is your girl @
paper boat press
.
I also picked up some crocheted morsels here - Crayon Chick - again the delight of actually purchasing from the maker and creator beats the rush, push and shove of impersonal shopping centres. It makes you feel at one with the items you buy.
Go visit her
here
and see what amazing things she can do with your child's drawings!!!
Now here is something that truly blew me away.........I think these are just the most magical idea E.V.E.R.!!!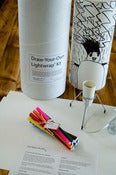 This is definitely in my Christmas shopping pile - I have nephews who will love this!!!! The kit comes with everything needed for creating your own lampshade cover AND it is completely washable - so the shades can be changed!!! Whats not to love??! Go ahead and visit
two layers of cells
and see what they have on offer.
Can you tell I had a ball??
TK xx